BEST SOLO PIANO ALBUM of 2017 ~ One World Music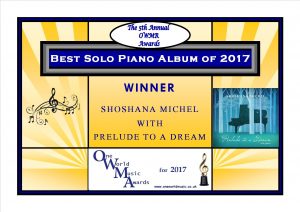 Prelude to a Dream features eleven original piano solos that will soothe, inspire and delight. It is Shoshana's third piano solo album and her second as a composer. Inspired by the solo piano community, she starting composing after a twenty-four-year hiatus. The music she writes is inspired by life experiences, people and emotions.
ABOUT PRELUDE TO A DREAM
In 2015, Shoshana felt the need to prove herself as a composer, not just as an arranger or pianist. Determined to compose, she sat down at the piano and after a few tries, the music began to flow. The blocks that were preventing her from composing began to dissolve and she couldn't write down the music fast enough. The result of this 'flood of music' was Dancing on the Wind, her debut as a composer. Inspired by the overwhelming response to and the success of Dancing on the Wind, as well as the support of the solo piano community, she continued to compose. Prelude to a Dream is the result.
Learn the stories behind each of the compositions from Prelude to a Dream.
Audio Review for Prelude to a Dream
"Prelude to a Dream has raised the musical bar once more for the musician; this I believe is the album that will place Shoshana Michel's name firmly on the map as one of the finest female pianists of her day. The album is a collection of truly great compositions…. ~ Steve Sheppard, One World Music Radio
"For lovers of solo piano, this one is a must have. Simply charming through and through. ~ Dyan Garris, Best New Age CDs
"Although Shoshana Michel has only recently made a splash in the piano world as a composer, Prelude to a Dream likewise proves that she has quickly anchored herself alongside some of her finest contemporaries! ~ Candice Michelle, Journeyscapes Radio
"A Walk in the Rain" will transport you back to memories of your  own strolls, as it did for me… this piece is the best solo piano piece I've listened to (yet) in 2017!" ~ Dick Metcalf, Contemporary Fusion Reviews 
If you would like your CD signed, please indicate this in the comments box on your checkout page.
Mp3s downloads available through: