Mélange, Shoshana's sixth piano solo album, features nine original piano solos full of emotion, reflection and inspiration.
ABOUT MÉLANGE
The music from Mélange was born out of contemplation and inspiration. Some of the compositions from this album reflect the different emotions, thoughts and feelings that Shoshana had experienced during very challenging and confusing times, while others were inspired by music and those that composed it; mainly the minimalistic pianists that had been motivating and inspiring her the last several years. Mélange is distinctive in that it was recorded on a felted upright piano giving the pieces a more soft and intimate sound and are mostly minimalistic in nature which differs from her previously released albums.
"…I have been reviewing Shoshana's albums since her 2015 debut, Soul Whispers, and her music never disappoints! " – Kathy Parsons, Mainly Piano.
Mp3 downloads also available through:
Mélange Spiral Bound Songbook and CD Bundle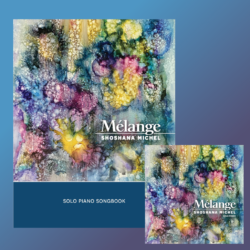 Buy the spiral bound songbook and the physical CD
$35.00Add to cart
Mélange PDF Songbook and MP3 Bundle (Download)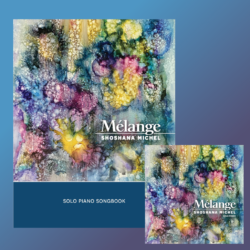 Buy the pdf songbook and the mp3 album
$25.00Add to cart